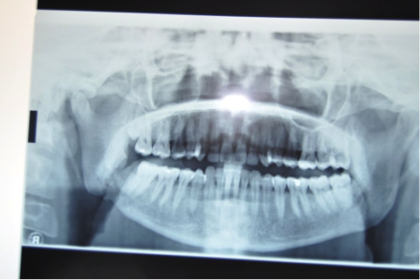 B. Cassiano *, E. Facciuto ^, M. T. Cassiano, A. I. Facciuto
*Dipartimento Otorinolaringoiatria Azienda Sanitaria Napoli 3, Napoli
^Dipartimento Maxillo Facciale, Azienda Ospedaliera "A. Cardarelli", Napoli
Abstract
Saddle nose is a term to describe a nose with a depression over its dorsal surface. This collapse results from a decrease in the structural support of the cartilaginous or bony framework deep to the nose.
The Authors describe 1 case of reconstruction of severe post-traumatic saddle nose deformities requiring dorsal and caudalsupportusingmandibular bone graft and propose a new technique of mandibular graft. The procedure can be performed using both the open rhinoplasty or closed approach with the need for radix incisions for rigid fixation.
The mandibular bone graft offers the following advantages: easily harvested from the same surgical field according to the concept of "cephalicautarchy",minimaldonor site morbidity,large quantity of bone available,low rate of resorption because of itsmembranousembryologicorigin,performed by open and closed rhinoplasty, good functional and aestheticresults.
Introduction
The cause of saddle nose deformity is essentially traumatic: severe frontal blows to the nose can cause saddling directly destroying the bony and cartilaginous skeleton of the nose. In some cases the hematoma leads to necrosis of the cartilaginous septum and loss of support. The incidence of post- traumatic nasal deformities is very high: 20 % to 50% and in particular traumatic injuries of the "keystone area" may cause saddle nose deformities (1).
Daniel and Brenner (2) introduced detailed classification system in 2006 that classified saddle nose deformities into six different types based on clinical findings and pathophysiologic processes.
TYPE OF DEFORMITY
Type O
PSEUDOSADDLE
RELATIVE DEPRESSION OF THE CARTILAGINOUS DORSUM
Type I
MINOR—COSMETIC CONCEALMENT
MINOR DECREASE IN SEPTAL SUPPORT
Type II
MODERATE—CARTILAGE VAULT RESTORATION
THE CARTILAGINOUS MIDDLE VAULT BEGINS TO COLLAPSE AND THE COLUMELLA RETRACTS AS THE NOSE IS ''SADDLED FROM BELOW.''
Type III
MAJOR—COMPOSITE RECONSTRUCTION
FLATTENING AND DEPRESSION OF THE MIDDLE VAULT
Type IV
STRUCTURAL RECONSTRUCTION
LARGE SEPTAL DEFORMITY AND A CONCOMITANT DEFECT IN THE BONY VAULT
Type V
CATASTROPHIC—MAJOR RECONSTRCUTION
TOTAL RECONSTRUCTION

OF THE INTERNAL LINING OF THE NOSE AND THE BONY AND CARTILAGINOUS NASAL VAULT
Daniel RK, Brenner KA. Saddle nose deformity: a new classification and treatment. Facial PlastSurgClin North Am 2006;14(4):301–312,
The treatment techniques for correcting this deformity vary and range from simple onlay grafting to complex reconstruction, that might require bone grafts with internal rigid fixation, cartilage grafts and composite grafts.
In cases in which there is a massive loss of the dorsal bony support (type IV-V) is used graft of sizable dimensions. These defects often require larger grafts, and generally is preferred using split calvarial bone or rib.
The Authorsdescribe 1 case of reconstruction of severe post-traumatic saddle nose deformities (Type IV) requiring dorsal and caudal support using mandibular bone graft and propose a new technique of mandibular graft.
Surgical Technique (Fig.1)
An incision is made along the external oblique ridge of the mandible, half way up the ascending ramus (inferior to the fat pad), to the region of the first molar, leaving enough mucosa for closure. Dissection in the submucosal plane is performed and the periosteum is incised and elevated. A combination of reciprocating saw and rotating saw may be used for all osteotomies, to isolate a rectangular shaped piece of outer cortex. A right osteotome is used to lift the outer cortex free from the mandibular ramus. The periosteum and mucosa is then closed using polyglactinresorbable stitches. A bony graft of 30 mm per 65 mm can be harvested. The nasal skeleton is exposed using both an external rhinoplasty or closed approach. Dissection is carried cephalically to the nasal dorsum. The bone graft is properly carved. We create a surface for direct bone to bone contact, and the cortical aspect of the bone graft is orientated superficially. The bone is placed underneath a subperiosteal pocket to stabilize and prevent displacement of the graft. It's very important that the dissection of the pocket for the graft must be careful and as deep as possible.
The graft is secured with a single titanium lag screw placed through a stab percutaneous incision. Anterior nasal packing for seven days by Merocel®. Thereafter we placed a contour taping to shape the external structure of the nose and an external fixation of the bone graft by an aluminum nasal splint.
In our cases no nasal osteotomies were performed.
Fig.1: Surgical technique
Case
A 36-year old caucasian woman. Cranio-facial trauma by car crash. Saddle nose type 4.
Reconstruction by mandibular graft. In this case we used closed approach rhinoplasty. (Fig 2)
Good results at 14 months.
Fig 2: Case
Discussion
The nasal reconstructive surgeon has various options for dorsal onlay grafts, but we know that the ideal graft does not exist.
The ideal graft material should be compatible with the host, easily shaped, resistant to graft infection, resorption, migration, and extrusion.
Autologous cartilage is generally accepted as the gold standard for nasal grafting by its excellent biotolerance, low infection and extrusion rate. Tardy's retrospective study of 2000 grafts performed over the course of 17 years concluded that complications were infrequent and often the result of surgical errors in graft contouring, or inaccurate and imprecise pocket preparation, and not due to the properties of the graft itself (3).
The main limitation of septal and conchal cartilage is that does not allow harvesting of a 4-2.5cm graft.
Costal cartilage provides the advantages of a large volume of graft material with excellent structural support. The disadvantages are warping and the potential donor site morbidities. In addition, costal cartilage leads to a much higher degree of graft resorption.
In case of severe saddle nose (type IV) it's preferred the use of bone graft for several reasons. At first autologous bone compared with alloplastic implants is associated with lower rates of graft infection, extrusion and resorption (4), second, compared with cartilage, bone is much more abundant (5).
Actually the surgeon has several donor site options for bone grafting including calvaria, rib, and iliac crest.
The iliac bone graft has fallen out of favor because of a significant resorption rate and donor site morbidity: pain, paresthesia from injury to the lateral femoral cutaneous nerve, gait disturbance, and the rare occurrence of acetabular fracture (6).
Rib bone grafts can be harvested in lengths of 10 to 15 cm, and then split to double the surface
area of the graft. The disadvantages include the potential for pneumothorax, chest wall depression, and persistent pleuritic pain with exercise (7).
Calvarial bone grafting was reported for nasal reconstruction, in 1983. Advantages include
a donor site with little pain, and a hidden scar. Disadvantage include the risk of intracranial injury (cerebrospinal fluid leak, meningitis, and injury to the brain through contusion or hematoma formation), depressed scar, alopecia of overlying scalp and limited graft volume. Jackson and coworkers and other studies cite 20 to 30% resorption rates of calvarial bone grafts (8)
Some surgeons may prefer using implants in type IV cases.
Several alloplastic options exist including polyamide mesh, polymeric silicone (Silastic; Dow Corning Corp, Midland, Michigan), waterproof breathable fabric (Gore-Tex; W. L. Gore & Associates, Inc, Newark, Delaware), (9-11), calcium phosphate cement paste, polytef (polytetrafluoroethylene), and porous high-density polyethylene.
These materials, however, are associated with increased risk of graft infection, extrusion, and possible rejection.
We propose, for saddle nose type IV, our experience by mandibular bone graft. The procedure can be performed using both the open rhinoplasty or closed approach with the need for radix incisions for rigid fixation.
We use a bone graft to address the dorsal and caudal support structures in patients with severes saddle nose deformities. It is easily harvested from the same surgical field and causes minimal donor site including postoperative pain and the possible complications represented by: injury of alveolar nerve or of the teeth and the possibility of mandibular fracture. In case of severe cranio-facial trauma sometime the mandibula can be compromised by prior surgery or trauma.
In addition, according to Curioni, who introduced the concept of "cephalic autarchy" in the early 80s, mandibular bone graft has a low rate of resorption because of its membranous embryologic origin (12).
In our cases we have not reported any complications (Fig. 3).
Fig. 3: Postoperative control
The use of a titanium screw for rigid fixation is associated to an increased risk of infection, the need for additional incisions and the presence of a fixation device palpable through the skin.
However the use of rigid fixation has been reported to decrease graft resorption (13) and we have noted no evidence of graft migration or resorption at 18 months (case 2).
This method secures the vertex and both caudal and cranial aspect of the dorsal portion of the nose.
In all cases we used care to thin the cephalic portion of the dorsal segment.
In conclusions the mandibular bone graft offers the following advantages:
Easily harvested from the same surgical field according to the concept of "cephalic autarchy";
Minimaldonor site morbidity;
Large quantity of bone available;
Low rate of resorption because of its membranous embryologic origin;
Performed by open and closed rhinoplasty;
Good functional and aesthetic results.
Indirizzo per corrispondenza / Address for correspondence: B. Cassiano – Dipartimento Otorinolaringoiatria Azienda Sanitaria Napoli 3 – Napoli
Email: otos01@libero.it