Frontiera ORL - Year IX, N. 1 - January 2019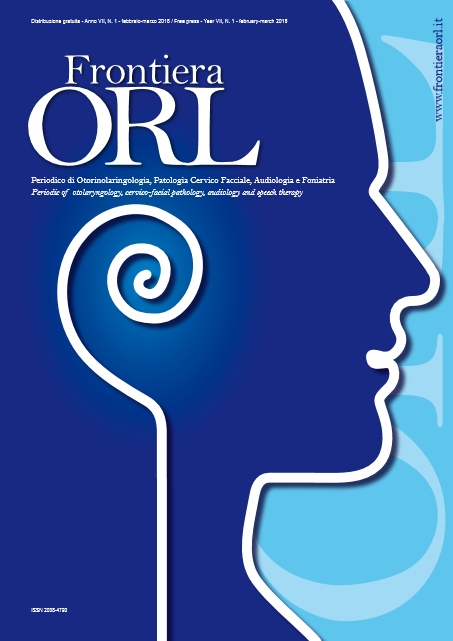 Editor Chief: Ortensio Marotta, MD
ISSN: 2038-4793
Navigation: Free Access
Current Issue: January 2019 - Year IX - Number 1
Download the number: click here
IS NOW AVAILABLE THE EBOOK:
A NEW METHODOLOGICAL STUDY FOR THE ANALYSIS OF RISK FACTORS IN ORAL AND LARYNGEAL CANCER
R. Menicagli, O. Marotta
Download the PDF: click here
YOU CAN READ THE ARTICLES HERE
Luigi Califano, Francesca Salafia, Maria Grazia Melillo, Salvatore Mazzone Department of Audiol...

M. Siani , E. Avallone, A. Siani PFAPA syndrome (Periodic Fever, Aphtous Stomatitis, Pharyngiti...

* Prof. Dr. Guillermo Stok, **Dra. Carolina López Sanabria. *Prof. Cátedra de ORL, Facultad de ...